If you've ever bought over-the-counter medicines, you must have seen the information leaflet attached to the bottle. You have to literally peel it away to read the next page!
And even though the leaflet provides all the information about the product, it's a bit inconvenient. Plus, it's an unnecessary waste of paper that just adds up to the packaging cost. After all, the customer will eventually discard the bottle! 
This is where double-sided printing stickers come into the picture! 
Double-sided printing stickers cost-effectively differentiate your product and minimize packaging costs.
But what exactly are double-sided printing stickers? How can they help boost your business? And where can you find the best ones? Read on to find out.
What are Double-Sided Printing Stickers?
As the name suggests, double-sided printing stickers are labels or stickers printed on both the front and adhesive sides. They are 2-sided decals with an image or logo on one side and related information on the other side. 
Double-sided printing stickers are usually used for branding or product promotion by putting them up on clear glass or plastic surfaces. These include entry and exit points in stores or transparent product bottles.
We are emphasizing glass because a double-sided sticker only works on transparent surfaces. The purpose is to make information about something visible from both sides.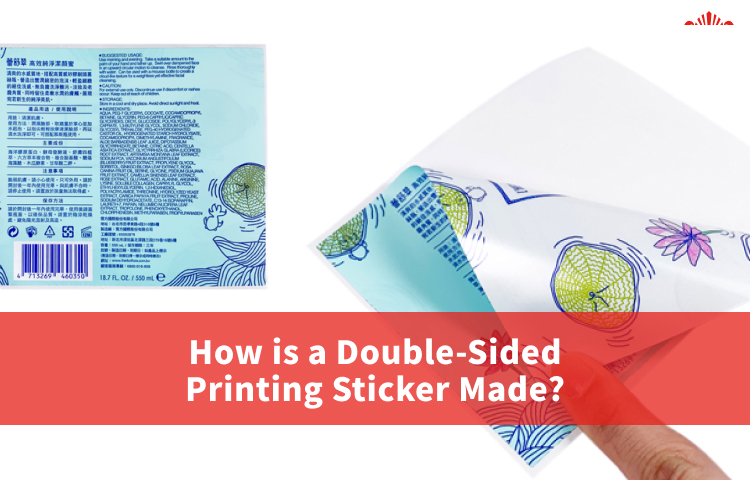 How is a Double-Sided Printing Sticker Made?
One might think that a double-sided label or sticker has just one printed layer on both sides. However, you would be surprised to know that it has multiple layers. And the process of making a double-sided printing sticker involves six steps.
Let us break them down for you:
Step 1: Base Layer
The first step in making a double-sided printing sticker is preparing the base layer or adhesive layer. This layer is made of clear biaxially oriented polypropylene (BOPP) material and sticks to the surface on which you want to apply the label.  
Step 2: Printing the Graphics on the Base Layer
The information you want the people to read through the bottle is printed on this base layer. It can be instructions, a QR code, or other details. This information is inward facing, which means it can be viewed from the opposite side.
Step 3: Printing the Knock-Out Layer
The third step is to print a layer of opaque white ink on top of the graphics. This layer called the knock-out layer, prevents the graphics on the other side from showing through to the front.
Step 4: Outer Layer
Now we need a base for the second graphic. Therefore, the fourth step involves applying the outer base layer to the knock-out layer.
Step 5: Printing the Outward Facing Graphics
Once we're done with the graphics on the adhesive side, it's time to print the front-facing graphics on the sticker. The graphics on this side are usually logos or the name of the product or brand.
Step 6: Protective Coating
The last step is to secure the whole thing with a protective coating. This coating can either be laminate or varnish and keeps all the layers beneath safe from wear and tear.
And that's how a double-sided printing sticker is made!
Now let's get down to business: How can double-sided printing labels do wonders for your business? Let's see!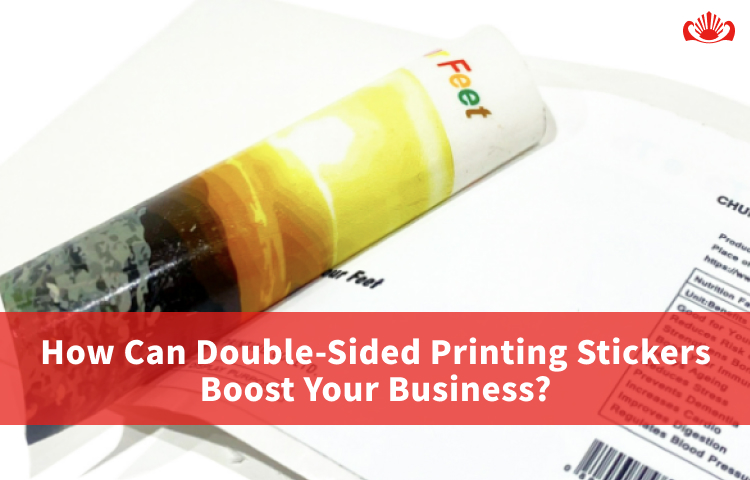 How Can Double-Sided Printing Stickers Boost Your Business?
Advertising or promoting a product means doing it in the most innovative way. A company goes all the way to get the customers' attention. They invest in exciting commercials and put up eye-catching billboards. However, while all these aspects play an important role in getting your product known, other small things also matter. Like our very own double-sided printing stickers!
But here's the catch: Double-sided labels are pretty underrated! Although many brands use these stickers for marketing a new product, service, or business, nobody gives them the attention they deserve!
But today, we're going to change that! Below, we have discussed how a double-sided printing sticker can help your business make its mark!
Here's what these stickers can do to boost your business:
1. They Promote Your Brand
Double-sided printing stickers are pretty important in promoting your brand, especially customized ones. You can use a tagline, logo, or image that ignites curiosity and entices potential customers to try out your product or service.
You can use a double-sided sticker to inform people what your brand offers and how it can solve their problems. So, get unique customized stickers, put them on shop windows and doors, and watch how the heads turn!
2. They are Cost-Effective
Big brands spend thousands of dollars on product advertising and promotional events. But how can a business or startup with a low marketing budget create brand awareness? With double-sided printing stickers, of course!
Double-sided labels are making the rounds in the business industry because of their cost-effectiveness. For starters, they are quite inexpensive compared to other means of marketing. Secondly, many suppliers offer huge discounts to companies who order stickers in bulk. And thirdly, they are great for locally marketing your product without spending a hefty amount on billboards and commercials.
3. They are Customizable
One of the best things about double-sided stickers is their customization. You can get anything printed on them in any shape, color, or size. You can make them as attractive as you want and in any quantity. Plus, you can apply them on the entry and exit doors at stores and car windows. Just go all out with your creativity, and see how it can do wonders for your business.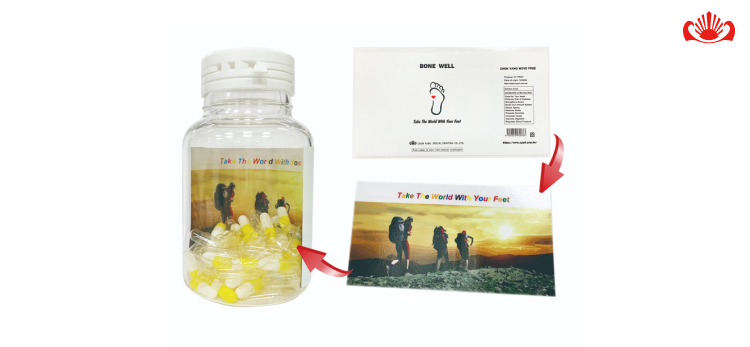 The Best Double-Sided Printing Stickers in Town
You know how double-sided stickers are made and how they can help take your business to the next level. However, you must be wondering where you can get these amazing promotional stickers.
Yes, you'll come across a huge number of double-sided sticker suppliers, but not everyone provides the quality you're looking for. Some might have limited customizing options, some might not make them in your desired shape, and some might deliver low-quality stickers. 
Therefore, save yourself from all the hassle, and get custom double-sided printing stickers made by Chun Yang Print. 
Chun Yang is a Taiwan-based printing company that has been around since 1985. It has designed thousands of double-sided printing stickers for various industries. The company is committed to offering an all-in-one advertising solution to its clients. 
So, if you're looking for premium-quality double-sided customized stickers, contact CYPrint for a quote.
Conclusion
Advertising a product in creative ways is what every company aims for. However, not everyone manages to do so effectively. CYPrint's double-sided printing stickers make it possible for brands to promote, advertise, and market their products and services exclusively. 
So, boost your brand recognition and introduce new products and services the CYPrint way with double-sided stickers!